About Brandon
Brandon Scott DeRosa was born July 13, 1991 in Dunedin, Florida weighing in at 9 lbs. 2 oz. He moved to Chicago at 8 months to be closer to his Grandma and Grandpa. He moved back to Florida at 8 years old where he remained until moving to Cincinnati to attend Lakota West High School. Brandon graduated from Lakota West in 2009 and then attended Marshall University for most of his freshman year.
Brandon enjoyed soccer and baseball as a young child. He took great pride in playing for West Lawn Little League Reds. As he grew to a teenager, he enjoyed music, friends, and socialization, but NEVER forgot his family, especially his mom, Tracey, and his brother, Jacob. Brandon went to many different schools growing up, but never had a problem adjusting to a new life and new friends. He made friends everywhere he went. GOOD friends. He kept those relationships going even with distance.
Brandon was diagnosed with Type 1 Diabetes at 15 on February 9, 2007. His diabetes was managed by a wonderful team from Cincinnati Children's. He made friends with all of them as well and continued to keep in touch, even when he went to college.
Brandon developed a respiratory infection in September 2009, which developed into H1N1 through October of that year. He returned to school just before Christmas break, but never quite seemed back to 100%. Brandon left us on April 7, 2010. His cause of death was complications with diabetes, coronary failure. Brandon had so much love for life. He had big plans. He lived everyday like it was his last. We are so happy he did because he left us far too soon.
Type 1 and Type 2 Diabetes are very difficult diseases to live with for family and friends of those who are affected. Brandon died because no one around him understood the disease and failed to realize the drastic low he was entering. It is so important that we educate people about the signs, warnings, and severity of this disease so that diabetes doesn't continue to take the lives of our loved ones.
And the world would never be the same! Written and Read by Aunt Kim at Brandon's Service
Wow, where do I begin...
Let me start with the incredible birth of Brandon DeRosa, July 13, 1991. Easy...that is not a word used very often to describe the day to day events that surrounded Brandon.
I was lucky enough to be at my sisters side the day that Brandon came into the world and, of course of all the days to decide to make a grandiose entrance, Brandon chose to come into life in the midst of a Florida Hurricane! And the world would never be the same. In the words of our little Brandon as a toddler - "Here me am!"
As a toddler Brandon struggled with speech and even had his tongue clipped as a little boy to help pronounciation of his words. For years, pretty much only his Mom and my son Louis could understand anything that came out of his mouth...but as you can guess, that did not stop Brandon from talking.
And funny...Brandon was funny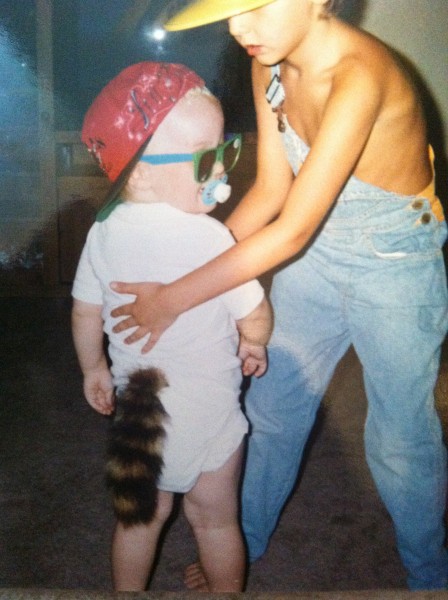 From day one, he loved to see people laugh! He would tell jokes and I swear, it was as if he was speaking Chinese. We didn't understand a word of what he was trying to say, but Brandon always ended the joke with the same three words. It sounded something like this. itty bitty (everybody) dubba wappa and him went to da baby. Then he would say WAKA WAKA WAKA!!! We would laugh so hard at waka, waka waka that Brandon would puff up and walk away so proud, as if he should be hosting comedy central!
He was a Winner!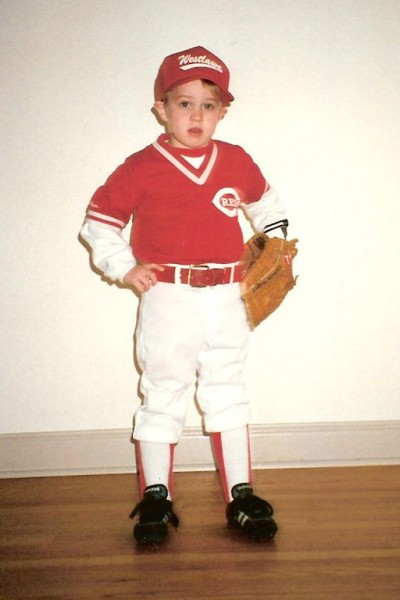 Brandon was passionate in everything that he did, whether it was telling a simple joke or working hard with his Mom and others to help find a cure for juvenile diabete's. I am sure all of you here who knew and loved Brandon knew he struggled daily with this disease.
I remember Brandon as a young boy playing baseball at West Lawn Park in Chicago, ironically he always played for the Cincinnati Reds! Who would have known. Well, most boys were nervous to step into the pitching box. They would almost close their eyes and take a swing, hoping it would be quick and painless, oh no, not our Brandon.
Brandon would step in, step out, step in, step out of the batter's box. Tap one shoe with the bat, tap the other shoe with the bat, put his arm up to let the umpire know - I'm not quite ready. Then Brandon would fill up with such pride, look around, make sure ALL WERE WATCHING and swing. Those tiny legs ran as fast as they could trying to get to first base. To everyone watching, it really didn't matter if he made a base or not... Brandon was a Winner.
Lil Scrappy
Later Brandon and his family moved back to Florida and Brandon decided to dedicate time and energy on fishing. So he and his brother Jacob would spend many of their days at John Chestnut Park. While the other boys were trying to catch bass, Brandon was "chasin gators" and yes he got one, the same one every day!
He spent a short but ever so interesting time getting into rap music. Time was flying by all of us, in the blink of an eye Brandon went from saying, "Hey, come ober here itty bitty" to listening to P Ditty.
Now, most teens would go buy a couple of cds or download some music, or just pick up some bling as my Brandon would call it. Not Brandon. That was not enough. Brandon ran up over a $1,000 cell phone bill calling 411 to try to locate and talk to a real rapper. HE DID! When Mom was flipping out over the phone bill, Brandon was saying "you just don't get it ma! I got to talk to Lil Scrappy"! Grinning from ear to ear with that infectious smile that Brandon had. Mom could never REALLY get mad, she would just say - that's Brandon.
My sister Tracey loved Brandon more than life it's self, and will continue to do so until she joins Brandon's side. Then, she will probably say, "you just had to cause a big scene didn't you"? Within seconds, all will be forgotten and they will forever smile togther.
Everything that Brandon did, he did it Big!
West Chester Happy at Home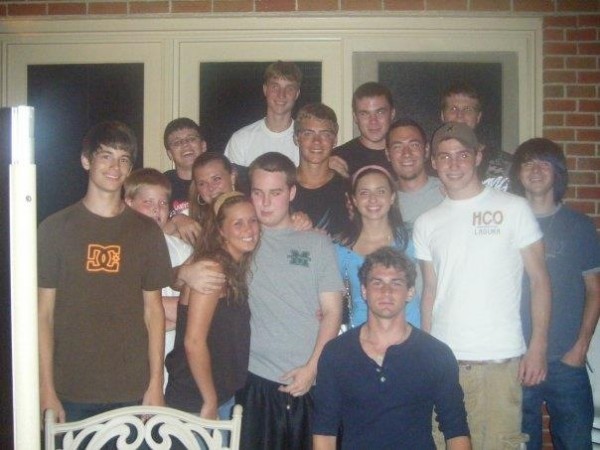 You know before Brandon's 16th birthday, he and his family made their way to West Chester and I believe for the first time, Brandon was home...really home.
They say that home is where your heart is, and Brandon's heart was here with all of you.
And the summer group! Wow, what can I say, what a great time, and what great memories. Senior Summer - the best summer of his and many of your lives. If we only knew.
Every young beautiful face sitting in this room today was so important to Brandon. He loved you all. Do not forget that, we never will, and to honor that love for Brandon, we ask you to cherish your life, enjoy life, but cherish it!
College - well Sig Eps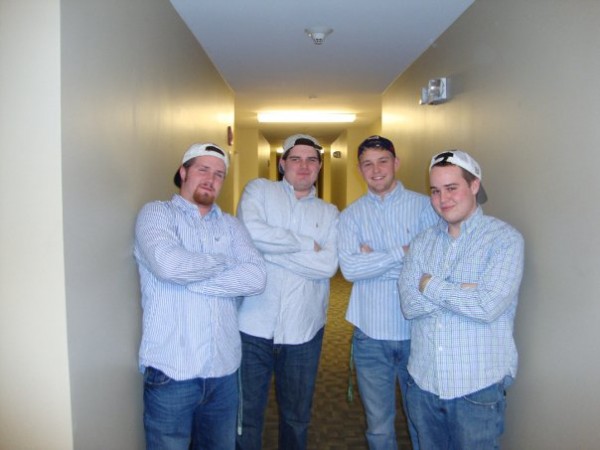 And to Brandon's Sig Eps. Frat Hard! Rush Em! But first and foremost, respect and cherish the life that was given to you, because in the end, a party we handle...not this kind!
Please enjoy life, celebrate Brandon's life. Brandon was so proud of all of you and being a part of the fraternity. Please make him proud!
We love you baby and the world would never be the same!
Brandon loved you all. He loved life. He loved his family. Brandon was loved back by all of you. He knew that. Looking around the room today and seeing not only the tears but also all of the smiles help us all to understand just how many lives Brandon has touched. Not all of us are able to say that!
So I ask you, when you say your last good-bye and you leave here today, try to take a little bit of Brandon with you!
A silly joke. A happy dance. A giant smile. A big hug. Pass it on for Brandon.
By doing that our world will be a better place!
Brandon, we love you baby...we will celebrate your life in everything we do!!!!
And the world would never be the same!!! Waka Waka Waka Baby!!!
It's the Life in the Years!